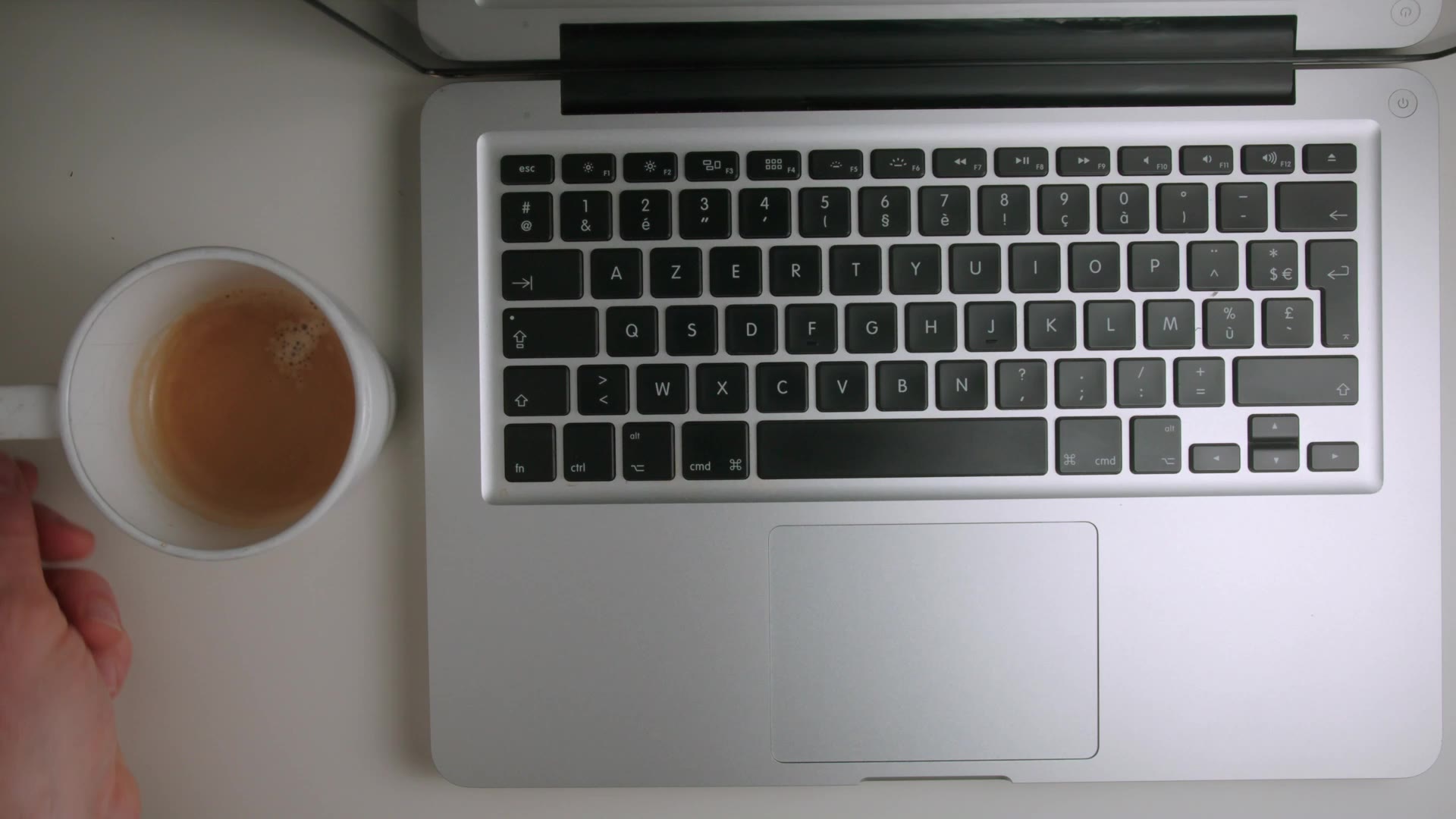 Support You've Been Looking For
Technical issues shouldn't slow down your employees. Request, track, fix and communicate any issue—from the most common to the most complex—all in one tool.

;
Level-Up Your IT Support
"Well sh°°. It's password change day — 10 minutes before a big client pitch presentation. How am I going to reset my password when it's Fort Knox getting logged back in?!"
Situation ring a bell? First, remember your passwords, dummy (jk). Second, get your team back to work fast and arm your superstar IT team with a tool to manage every request on time.
Stop relying on email and Slack and carrier pigeon to get critical technical issues resolved.
Tinker holds technical teams accountable with response time goals and reports to speed up internal customer service.
Why Did We Build Tinker?
There's nothing worse than people wanting to work, but can't! IT Talent did their job, but the struggle is communications — lost emails, missed direct messages, and of walk-n-talk mention — all led to There's nothing worse than people who want to work, but can't. For us, IT Talent was doing their job, but the struggle was communication — lost emails, missed DMs, forgotten walk-n-talk mentions — that all led to employee downtime. Now, Tinker partners your IT team to keep every single request organized while minimizing the back-and-forth chats across different platforms. Maybe now your IT guy won't be so agitated every time someone forgets their charger.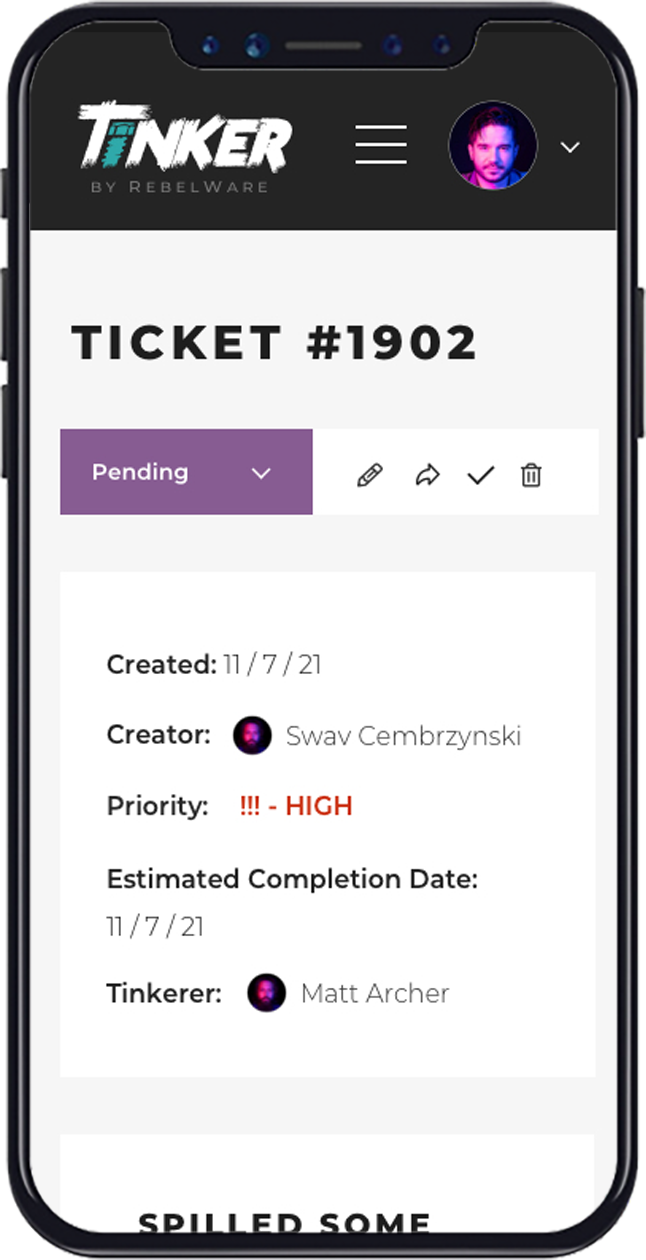 Restarting Your Laptop Isn't Enough
One-click IT ticket submissions
Native messaging + chat functionality for internal IT support
Reports and dashboards to keep you informed
Alerts for overdue and stalled tickets
API integrations to many 3rd party apps
Mobile and desktop friendly
Team and department management
Customize to fit your company's current process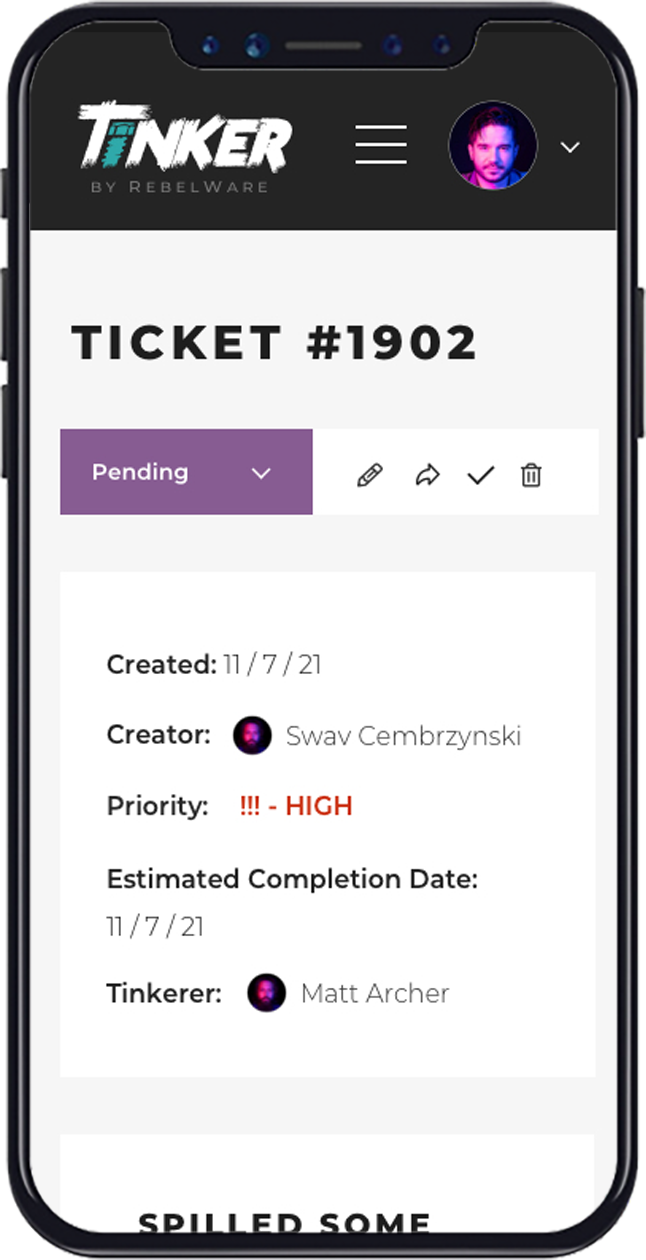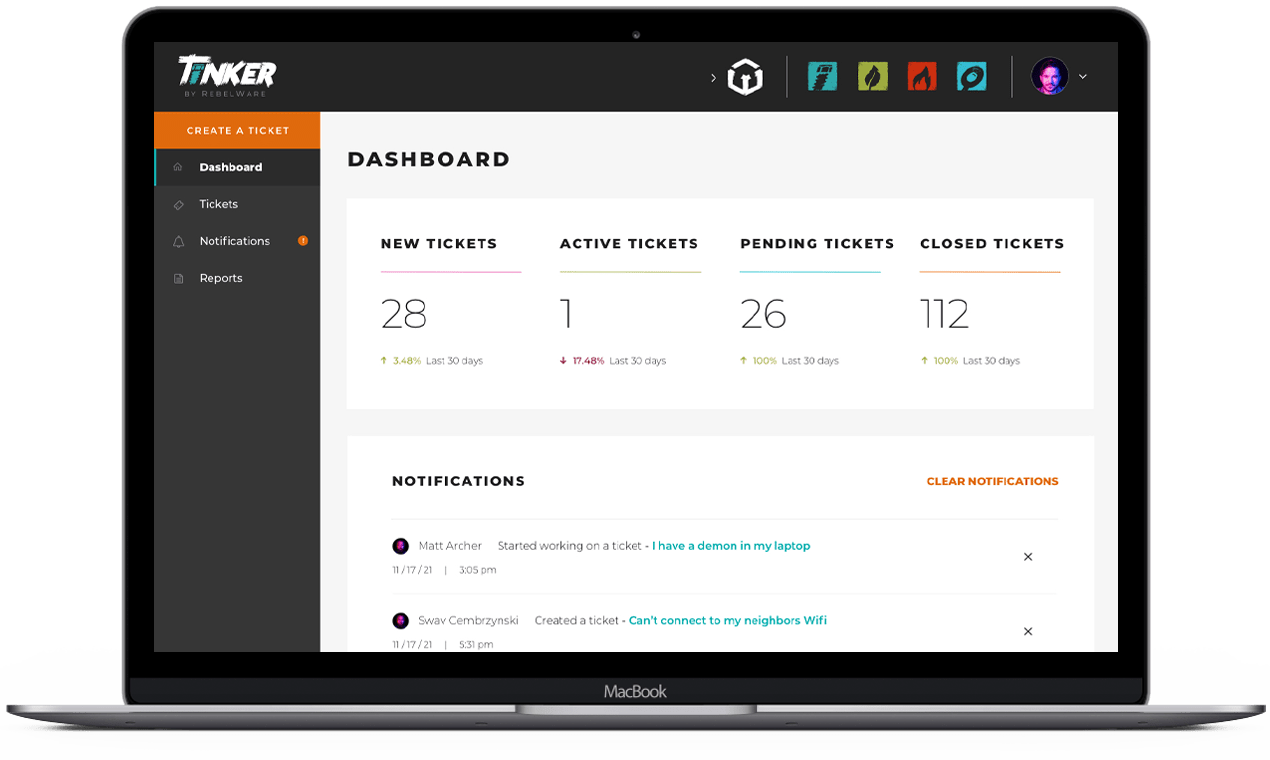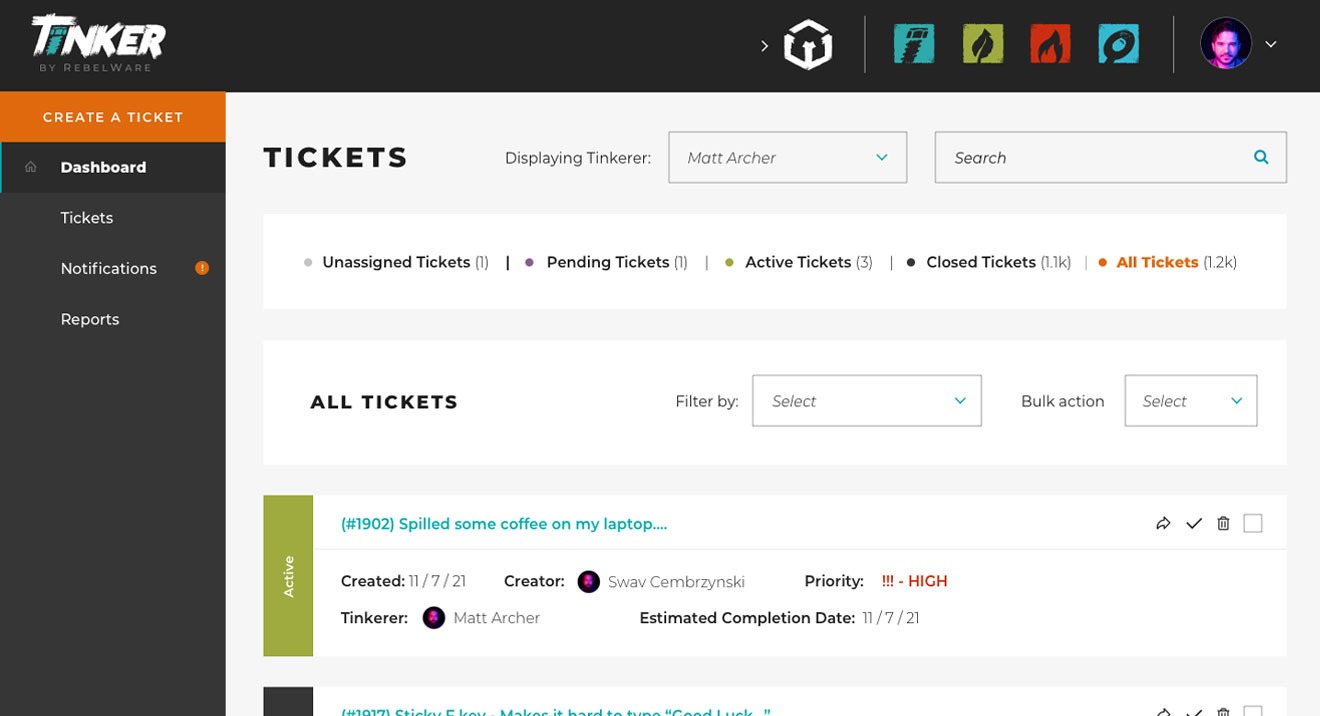 Submit a Ticket Anywhere
Tinker is mobile-friendly, so submitting a ticket from anywhere is easy-peasy. The ticketing interface is simple and user-friendly; no instructions required. Categorize your request, determine the level of urgency, add screenshots, and submit.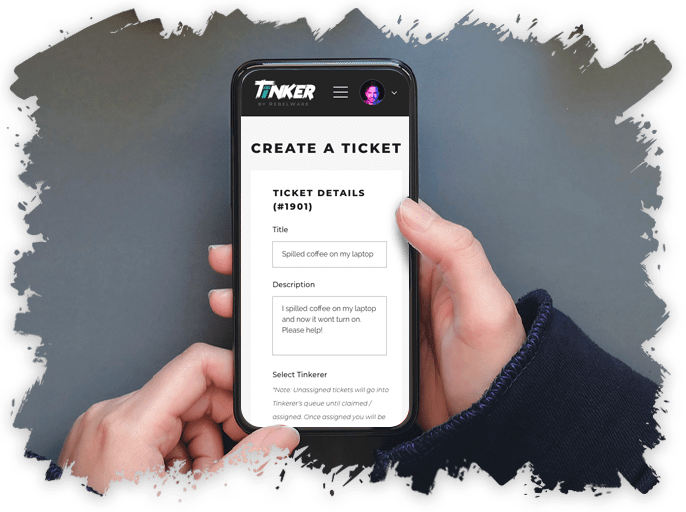 Talk Tickets to Me
With Tinker, you no longer have to hop into Slack or Teams or email to communicate with your IT team. Messaging and chat functionality built directly into Tinker streamlines IT support communications and centralizes them in one place.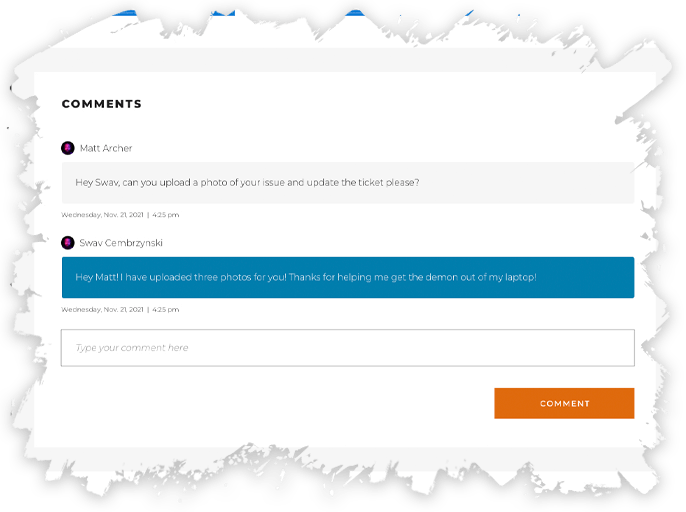 Learn from Your Issues
Isn't that what therapy is for? We kid, we kid. But seriously: learning from the tickets your organization is submitting and the level of support they're getting fosters a happier workforce. Next time Sheldon asks for a new laptop, you can check how many times his cat spilled coffee on his old one.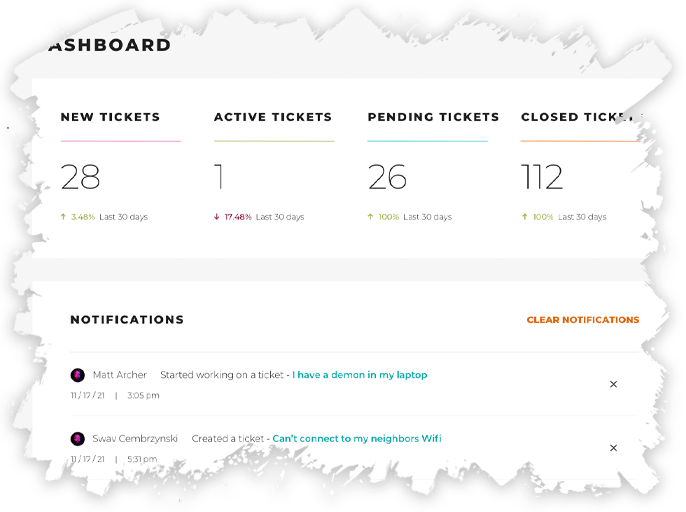 Manage Response Time
Simple alerts and notifications show how many tickets are in the queue — new, read, in progress and complete. Managing bandwidth and IT support has never been easier, or more simple. It'll be hard for employees to say Dave never got back to them about their computer issue with Tinker.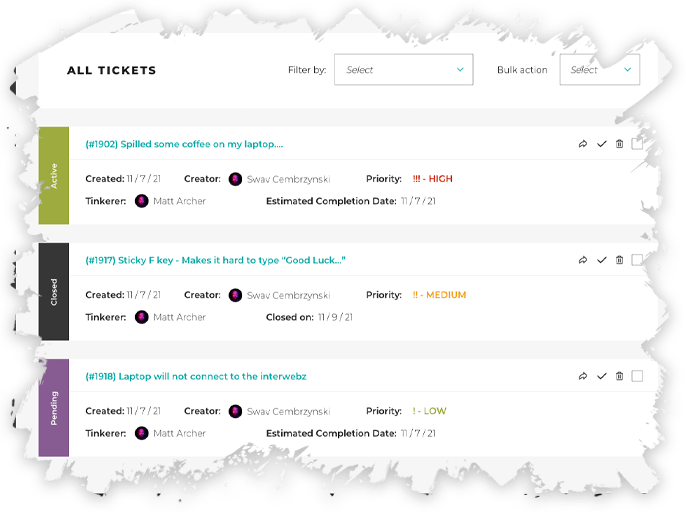 Want to witness RebelWare in action?
Or just want to shoot the shit with some Rebels? Schedule a demo of RebelWare.
Pinky-promise it'll be a good use of your time.
Other RebelWare Products
Only if You Need to Fix More Things in Your Company